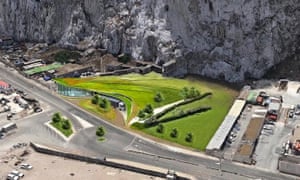 Work set to begin on state-of-the-art facility that could eventually house more than 850,000 cases of wine.
It's home to Europe's only population of wild monkeys and a labyrinth of tunnels that criss-cross through its limestone rock. Gibraltar could soon also be home to investment-grade wine from around the world, with work set to begin this month on transforming the rock into a state-of-the-art wine cellar.

"Our intention is to develop the largest underground wine storage facility in the world, said Tracy Lee, of Gibraltar Wine Vaults. We have the perfect conditions within the rock: 70 to 80% humidity, 13 to 14 degrees C, no light, no vibrations."
The facility will be housed within the territorys extensive network of tunnels and vaults, built by the Royal Engineers prior to the second world war when British authorities were certain that an attack on Gibraltar was imminent.
Until recently, access to the tunnels was restricted. Lee learned of the existence and scope of the tunnels from her father, who served in the military. "In some of the huge tunnels in the Rock you can fit two 10-ton trucks next to each other. The chambers are the height of cathedrals. Its extraordinary," she said.
See full story on theguardian.com
Image courtesy of theguardian.com