As we approach the harvest season in wine country (also known as "The Crush"), hotels, lodges and BnBs start filling up. With all the hustle and bustle surrounding The Crush, harvest season is a very popular time for wine fans from all over the world to make the pilgrimage to the "holy land".

If you haven't made lodging reservations yet, your choices will diminish with each passing day. One thing to keep in mind is that this year the harvest season is earlier than ever. In fact, harvest for many early varieties such as those used in sparkling wines have already begun.
And yet you're determined to visit and taste some of your favorites, and hopefully discover a few hidden treasures you can share with your friends back home. Good for you!
Here are 10 Insider Tips that will help make your visit more enjoyable and minimize the pitfalls. Although our focus is California, these tips can be applied to any wine destination in the world.
1. Take some time to plan
The more you plan before your trip, the more time you'll have to enjoy your wine country experience. There's a lot to be said for spontaneity, and it can be exciting to discover a winery off the beaten path. But if you plan the majority of your visits, leaving some time to explore, you will end up not feeling rushed or hurried.
If there is a particular region or winery you want to be sure not to miss, plan on spending more time there. If there is a particular winery, call and see if they have special private tastings, or tours.
If you don't have a GPS app on your phone, tablet, or car rental, print out some maps of the regions you'll be visiting. Also make sure you have the phone numbers of the wineries, especially the ones where you have reservations. If for some reason you cannot make the appointment, it's common curtesy to call and let them know.
2. Plan around the wines and varieties you love
A great way to plan your trip is to think about the type of wines you really enjoy. If, for example, Cabernet Sauvignon and Cabernet blends are your passion, you may want to think about Napa Valley. If you love Pinot Noir and/or Chardonnay, make it a point to visit the Russian River Valley. Zinfandel, try Dry Creek Valley and Russian River Valley.
Of course there are other varieties grown and made in every region, but it helps to learn about what regions are best known for growing exceptional grapes of particular varieties, and thereby producing the best wines.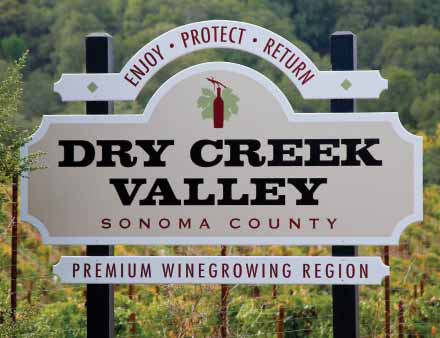 3. Narrow down the region(s) you want to visit
Pick a region or appellation (AVA – American Viticultural Area) or two and get to know the wines, the wineries and what varieties grow best in the AVA. If you love Pinot Noir, think about centering your trip around or near the Russian River Valley, Sonoma Coast, Los Carneros, Santa Barbara County, or the Santa Lucia Highlands regions. For Cabernet Sauvignon, Napa Valley is the epicenter, although there are some pretty good Cabernets to be found in Sonoma Country. Chardonnay lovers will find their favorite varietal just about anywhere in California. For Rhone varieties such as Syrah, Grenache, Mourvedre, Rousanne, Marsanne, and Viognier, try Paso Robles and California's Central Coast.
From your "base camp" you can always explore other regions nearby, but  try not to visit too many appellations in one day. You will spend most of your time driving instead of tasting. You could spend several days in the Oakville appellation of Napa Valley, for example, visiting several top wineries a day, like Opus One, Mondavi, Silver Oak, and Paradigm, and still only scratch the surface. We'll get to that in Tip #10.
4. How many wineries should you visit in one day? Or… Less is More!
If it's your first time to wine country, the temptation is to visit as many wineries as you can. And so you run from one winery to the next, not truly enjoying the ambiance of the winery, the region, or the wines. You will be missing critical aspects that make up the total wine country experience.
Set your sites on visiting 3 wineries a day. One around 11:00 AM, then lunch, one at around 2:30 and the last one around 4:00. Roughly speaking that should give you time to enjoy each winery you visit and allow enough travel time from one location to the next. It may also open up some time for you to explore should want to do so.
If you want to taste wines from several wineries, see if there are some "cooperative tasting rooms" in the region your visiting. These have become very popular in many wine growing regions, and offer you an excellent opportunity to taste wines from different wineries in one location. Many are also opened later into the early evening, whereas winery tasting rooms typically close around 4:30 or 5:00.
5. Call Ahead and Make an Appointment
It's a good idea to call ahead and get some detailed information from the wineries you want to visit. It would be disappointing to show up at your favorite winery to discover they were closed for a special event. Some questions you may want to ask:  a) hours of operation, b) do you need to make an appointment; c) what is their tasting fee; d) will the tasting fee be applied to any wines you purchase; e) do they have a special/private tasting, tours, etc.; and f) anything else that comes to mind.
6. Lodging
Do you want to experience wine country in all its glory and stay at a highly rated, exclusive resort that offers everything from spas to Michelin-starred dining, or a place simply to shower and catch some ZZZZs, or something in-between?
One of the best ways to find lodging is to ask the wineries when you call. They often have favorite places they recommend.
These days the internet provides you with a wide array of resources to help plan your trip. A couple of good websites to help you in finding lodging are www.tripadvisor.com, www.airbnb.com, and www.winecountry.com.
7. Who's driving?
If you're visiting any one of California's wine regions, chances are you are within reasonable driving time to the Pacific Ocean. There is nothing like taking a drive along California's beautiful coastline, through the Redwoods possibly, provided your itinerary and schedule allow for such an excursion. It's well worth it.
When visiting wineries, it is highly recommended that you either have a designated driver, or engage a car service. Today you can find everything from independent drivers that will drive your rental, to the most luxurious limousine services. Once again, ask the people at the wineries when you call for recommendations. They are a great resource. Or, search Google for the region and wine tours and car service. Be sure to ask for credentials and referrals or reviews.
8. How can I find the best restaurant?
When it comes to dining, wine country has an embarrassment of riches, from the quaint Oakville Grocery deli in Oakville, Napa and Healdsburg, Sonoma County, to the French Laundry in Yountville (Napa Valley). Fact of the matter is that the restaurant and dining industry in wine country is very competitive. If you have an inferior or mediocre restaurant, you will not survive.
Once again, the personnel at the wineries are a great resource, as is the internet. Smart phone apps such as Open Table, Urban Spoon, Trip Advisor and Yelp can be helpful. But getting recommendations from people who work and live in the area are your best bet. Most of the time they have the local knowledge and can steer you in the right direction.
9. Remember your Boy Scout motto? Be prepared!
While you're going from winery to winery, it's easy to forget some basic precautions to keep you going. It's important to stay hydrated, even if you are not thirsty. Bring along plenty of water. You're not in the Gobi desert, I realize, but having a few bottles of water with you will help you go farther than if you don't.
Also bring along something to munch on. Snacks like crackers and cheese, cured olives, fruit, and protein bars work great. Many people love to pick up a loaf of the artisan French bread from the local bakery to munch on between wineries.
Some wineries may have snacks, but some won't. Be Prepared!
10. Leave something for the next time!
You'll be coming back, no doubt about it! There are more places to visit and things to see than anyone can experience in a single trip. So if this is your first trip to wine country, or second, or third, make a note of things you may want to check out on your next trip.
In any event, I hope you have a wonderful time, and come back often.
If you have any questions, you can email George Bato at info@wineriff.com. You can also sign up to receive our Newsletter in the right-hand sidebar.